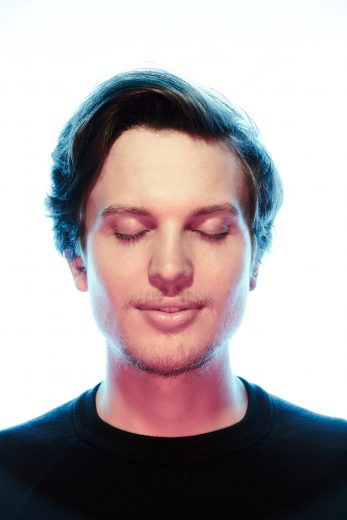 Jonas Sorgenfrei – was born in 1993 in Nabburg (Bavaria/Germany). He began learning the drums at the age of 5. He first studied at regional music schools, then after completing his A levels in 2012 he went on to study at the Berufsfachschule für Musik Nürnberg, where he graduted in 2014 as "Staatlich Geprüfter (Ensemble-)Leiter für Popularmusik".
His love for music lead him to continue on with his studies at the Hochschule für Musik Würzburg where he completed his Bachelor degree in Jazz-Drums, Pedagogy, and additionally with a Pedagogical Certificate in Jazz-Vocals in 2019. In 2015, he took a study trip to New York City, where he took lessons f.e. at the Drummers Collective and the Manhattan School of Music. In 2018, he furthered his studies at the Hochschule für Musik Nürnberg where he completed his Master degree in Jazz-Drums with pianists Prof. Rainer Böhm and Lorenz Kellhuber in 2021.
Jonas Sorgenfrei competed in the "Jugend Musiziert" and was awarded a prize in the "Drumset Pop" category at the age of 17. During his time at the University of Würzburg he won the Advancement Award in 2015 among others. Later on when he continued his studies at the Hochschule für Musik at Nürnberg, he was prized a Bruno-Rother-Jazz-Competition award and the International Jazz competition "Johnny Raducanu" award in 2019 in Braila, Romania.
Jonas Sorgenfrei is a part of the music collective "Metropolmusik e.V.". His debut as a bandleader "Elephants Marching On" (feat. Rainer Böhm, Wanja Slavin and Matthias Akeo Nowak) will be released in 2021.
He worked with Rainer Böhm, Lorenz Kellhuber, Jochen Rückert, Jim Black, Bastian Jütte, Bill Elgart, Billy Drummond, Ari Hoenig, John Riley, Erivelton Silva, Udo Dahmen, Ramesh Shotham, Jost Nickel, Ack van Rooyen, Johannes Faber, Dave Weckl, Gerwin Eisenhauer, Christoph Huber, Bernhard Pichl, Tine Schneider, Reinette van Zijtveld-Lustig, Silke Straub, Sara Decker, Michelle Walker, Sabine Kühlich, Henning Sieverts, Martin Auer, Florian Trübsbach, Lage Lund, Justin Faulkner, Matt Brewer, Jesse Davis, Mike Moreno, Matt Penman, Chris Cheek, Ralph Moore and Eberhard Weber among others.
Jonas Sorgenfrei performed concerts in Italy, Norway, Switzerland, Austria, England, Romania, China and all over Germany. He teaches drums and vocals at the solidary music school "Willkommen mit Musik".
Felix Schneider Restschikow
Felix Schneider-Restschikow, am 24.12.1990 in Neustadt an der Weinstraße geboren, begann das Klavierspiel mit 6 Jahren. Die ersten Jahre lernte er das klassische Klavierspiel bei seinem Vater Hermann Restschikow. Nach einer der Jugendzeit geschuldeten Pause begann er aber mit unterschiedlichsten Genren von Neuem. Diesmal gelang er über Musikstile wie Reggae, Blues und Funk, die er in diversen Bands spielte, schließlich zum Jazz. Die Welt des Jazz faszinierte ihn derart, dass er beschloss Jazz-Klavier zu studieren. 2010 begann er bei Tine Schneider das Studium in Würzburg und schloss 2015 seinen Bachelor ab. Von diesen 5 Jahren studierte er eines in Valencia, wo er bei Albert Sanz Unterricht hatte. 2017 beendete er sein Masterstudium ebenfalls bei Tine Schneider, die ihn maßgeblich prägte. Als Pädagoge und Klavierlehrer ist er privat und bei der solidarischen Musikschule "Willkommen mit Musik" tätig. Aktuell wohnt er weiterhin in Würzburg und spielt unter anderem in Bands wie:
Hussien & Felix
Raniin-Trio
Anton Mangold-Quartett
Not Machine
Yasami
Pioneros Latinos